Ravensburger
Regular price
Sale price
$34.99
Unit price
per
Save!
Out of Stock
Store Pickup Only
Available in store only
To check availability give us a call:
Clayton, MO: 314-725-2455
Edwardsville, IL: 618-656-9596
Visit our locations page for store hours and maps.
Call to reserve your Lorcana items.
We will have them available in our stores while supplies last.
8 years & up
Expand the possibilities of your Disney Lorcana deck with this gift set!
With two collectible oversized foil cards, two playable foil game cards, game tokens, and four boosters packs, this is a fabulous set to grow your card collection.
The foil cards feature Hades King of Olympus and Mulan Imperial Soldier. These cards bring new options to your decks. The oversized foil versions of these cards are perfect to collect and display!
The gift set includes 50 playable Disney Lorcana cards: Two playable foil cards and 48 cards in the booster packs.
Contents:
2 oversized foil cards
2 playable foil cards
32 damage counters
2 tracker tokens with themed art
4 booster packs of 12 additional game cards each
Booster Packs contain 12 randomized cards:
6 common cards
3 uncommon cards
2 rare, super rare, or legendary cards
1 foil card (random rarity level)
Note: This is an add-on set for your existing playable deck. To play Disney Lorcana, you need a deck of 60 cards, of two Ink Types only.
What is Disney Lorcana? It's a new TCG (Trading Card Game) based in the magical world of Disney!
As an Illumineer, you'll wield six magical inks to summon glimmers of Disney characters. Glimmers can appear as familiar friends or in fantastically reimagined forms. Recruit glimmers to your team as you travel through the world of Lorcana!
Using Glimmer cards (aka Disney characters and items) and action cards, players race to collect Lore points. Play your cards to damage and slow down your opponents. But you must be strategic! Each card costs Ink points, and you have a limited amount in your Inkwell.
Lorcana takes familiar Disney characters and illustrations and reimagines them as a collectible and playable game!
There is also a Disney Lorcana app to help you learn the game, build decks, and track the collection of Lore during a game. It's a free download from the App Store or Google Play.
Learn more on our blog post: Disney Lorcana TCG
View full details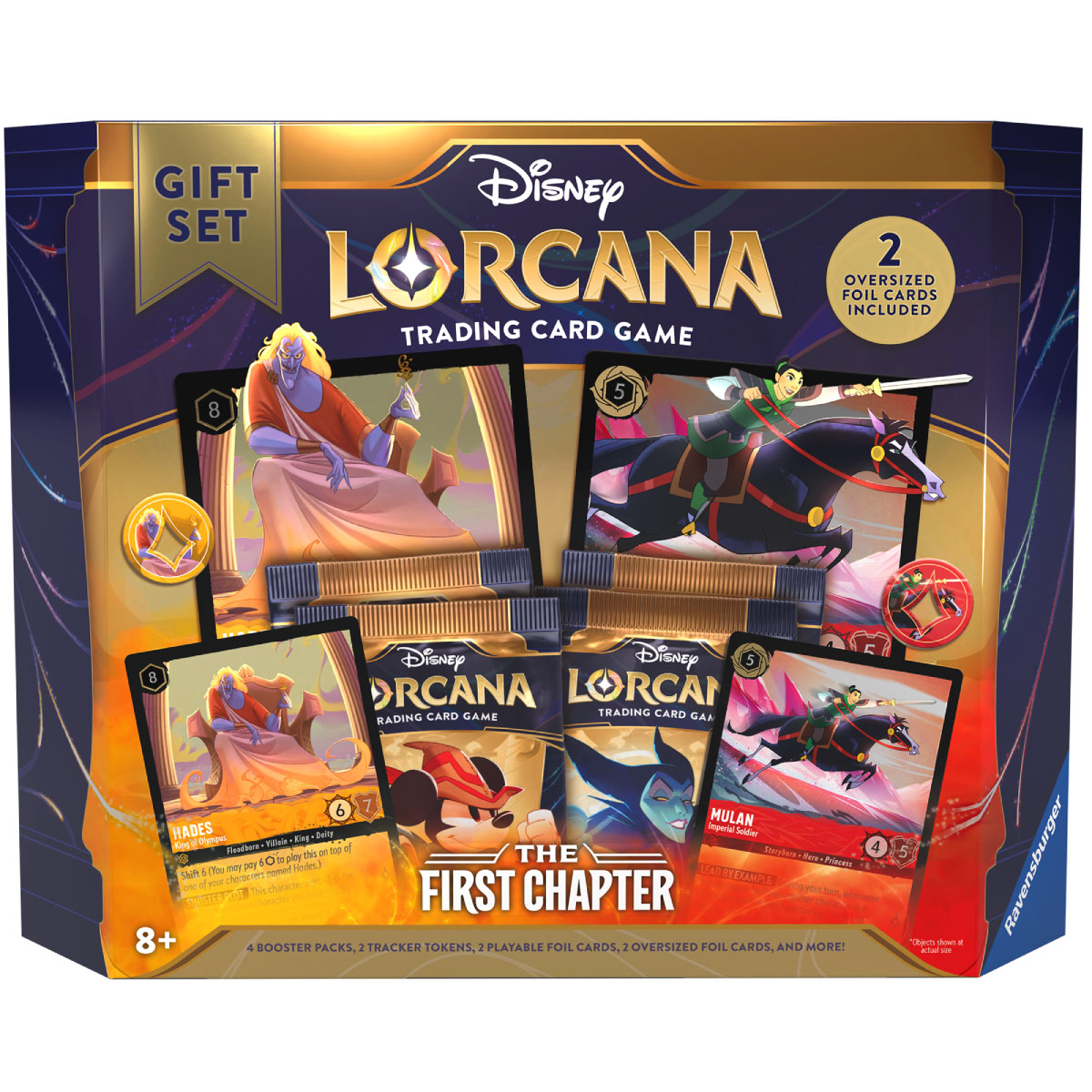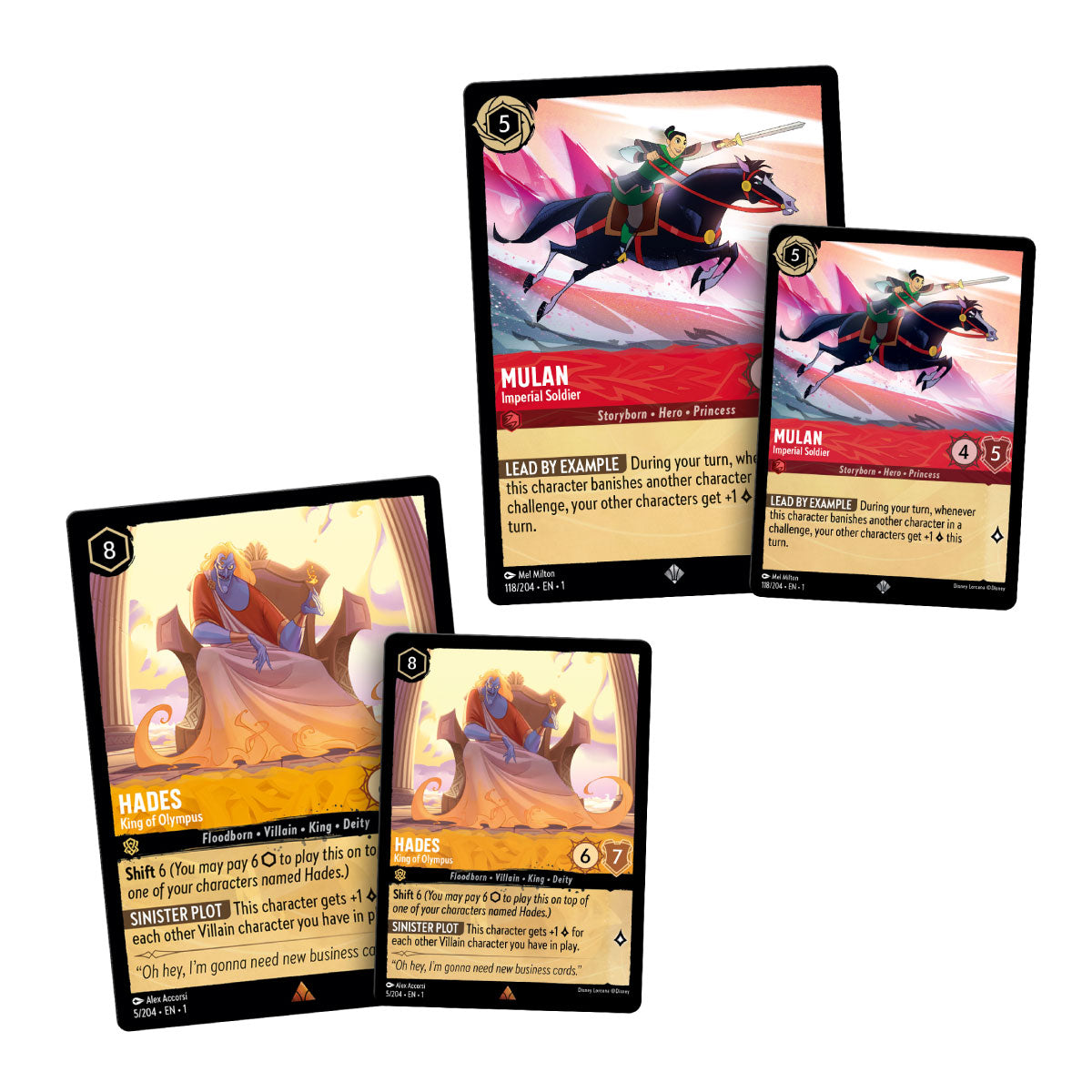 Purchasing Info:
Why Can't I Buy This Item Online?

There are products we want to showcase online, but for one reason or another are better sold in person. These are some of the typical reasons:

The items arrive as an assortment with LOTS of choices. We do not track the individual item but people DEFINITELY want a certain style. Ensuring you can order and receive the item you want is impossible.

Vinyl stickers with slogans or sayings, some fidgets, and some jewelry are a great example of this.


The item is a collectible and we need to limit the quantity of the item any one customer can purchase.

Some Holiday items, blind boxes, and trading card sets are good examples.


The item is a consumable like candy, soaps, and some personal care items. The FDA requires us to list ingredients and allergen information if we are selling these items online. That information isn't always available when we're adding the item to our website.

It's a very HIGH price-point item that we have on display. We order items like this for customers on an as-needed basis. 

If you are not in the St. Louis Metro-East area, chances are very good there is another toy store near you that has it or can order it for you. We are a member store of The Good Toy Group. Many of the other member stores stock very similar items. Click the link to see if one of our toy store  friends is near you!

Good Toy Group Store Finder Map
Store Pickup

 

Store pickup is always free.

We fulfill orders as quickly as we can. If you need something by a specific day or time, let us know at checkout and we will do our best!

Happy Up Edwardsville:

Orders are usually available for same day pickup if ordered by 2pm, Monday - Saturday.
If ordered after 2pm on Saturday, your order will be ready on Monday (or the next business day in case of holidays).

Happy Up Clayton:

Orders are usually available for next day pickup If ordered by 2pm, Tuesday - Saturday.
Orders placed before noon on Sunday will be available for pickup on Tuesday.
Some items may take additional time. We will contact you to let you know.

For Curbside Pickup:

Once we've let you know that your order is ready, give us a call when you arrive at the store. We'll bring your purchases out for you!

 

 
Shipping

 

We are more than happy to ship things for you!

A $24.00 minimum purchase is required for shipping.

Shipping rates are based on your cart total after any discounts or coupons.

Purchase Amounts:

$24 - $50 = $9.75 shipping
$50.01 - $75.00 = $12.25 shipping
$75.01 - $100.00 = $14.75 shipping
$100.01 - $150.00 = $19.00 shipping
$150.01 and up = $25.00 shipping

Some items are not eligible to ship. These items are labeled on their product page and in your cart as: Store Pickup Only

If you do not see shipping as an option at checkout, please check if any of your items are Store Pickup Only.

Shipping orders are processed Monday through Friday.

If you have any questions, send us an email: help@happyupinc.com

You are also welcome to give our Edwardsville, IL location a call during store hours: (618) 656-9596

 

 
Returns

 

We aren't happy until you are!

 

With receipt or email confirmation:

exchange, store credit, or refund to original form of payment

With gift receipt:

Without receipt, email confirmation, or gift receipt:

 

Shipping charges are not refundable.

To arrange for a return of an item we shipped, please email help@happyupinc.com

 

 
Shop Happy at a local Happy Up!