Papo
Regular price
Sale price
$25.99
Unit price
per
Save!
Out of Stock
Store Pickup
Shipping
Returns
3 yrs & up
Let dinosaurs roam the earth again with this figurine!
Paleontologists had suspicions about the existence of feathers covering the body of this small carnivore. It is now confirmed: the Velociraptor had feathers!
It is thought they were not capable of flight like birds. Instead, the feathers were used to regulate the Velociraptor's body temperature.
The Velociraptor was a small carnivorous biped. Its name means "agile thief" and grew to 6 feet long and 4 feet tall. It was armed with a very effective weapon: one of their toes had a huge claw. Its tail helped it to balance itself when it stood up to stab its prey.
The Velociraptor was not very big, but it was a smart and fast runner!
This dino's articulated mouth can open and close… CHOMP!
Measures about 3.2 x 2.7 x 2.5 inches.
Papo France figures are exquisite. Finely sculpted textures, muscles, and delicately rendered teeth and claws create miniature dinosaurs that are BIG on the details. They adapt their designs to reflect current discoveries about the dinosaurs. These creatures are also hand painted with precision and care!
View full details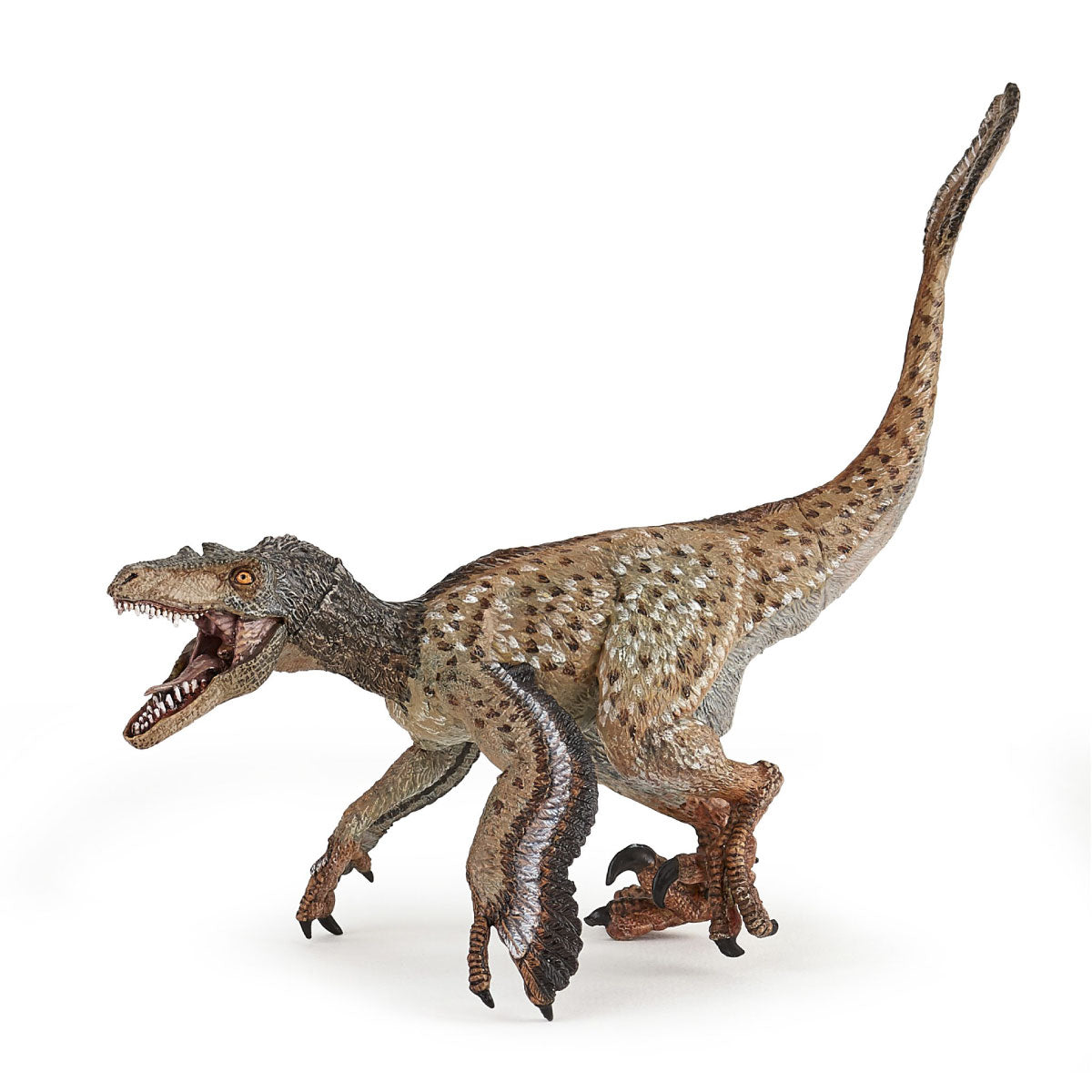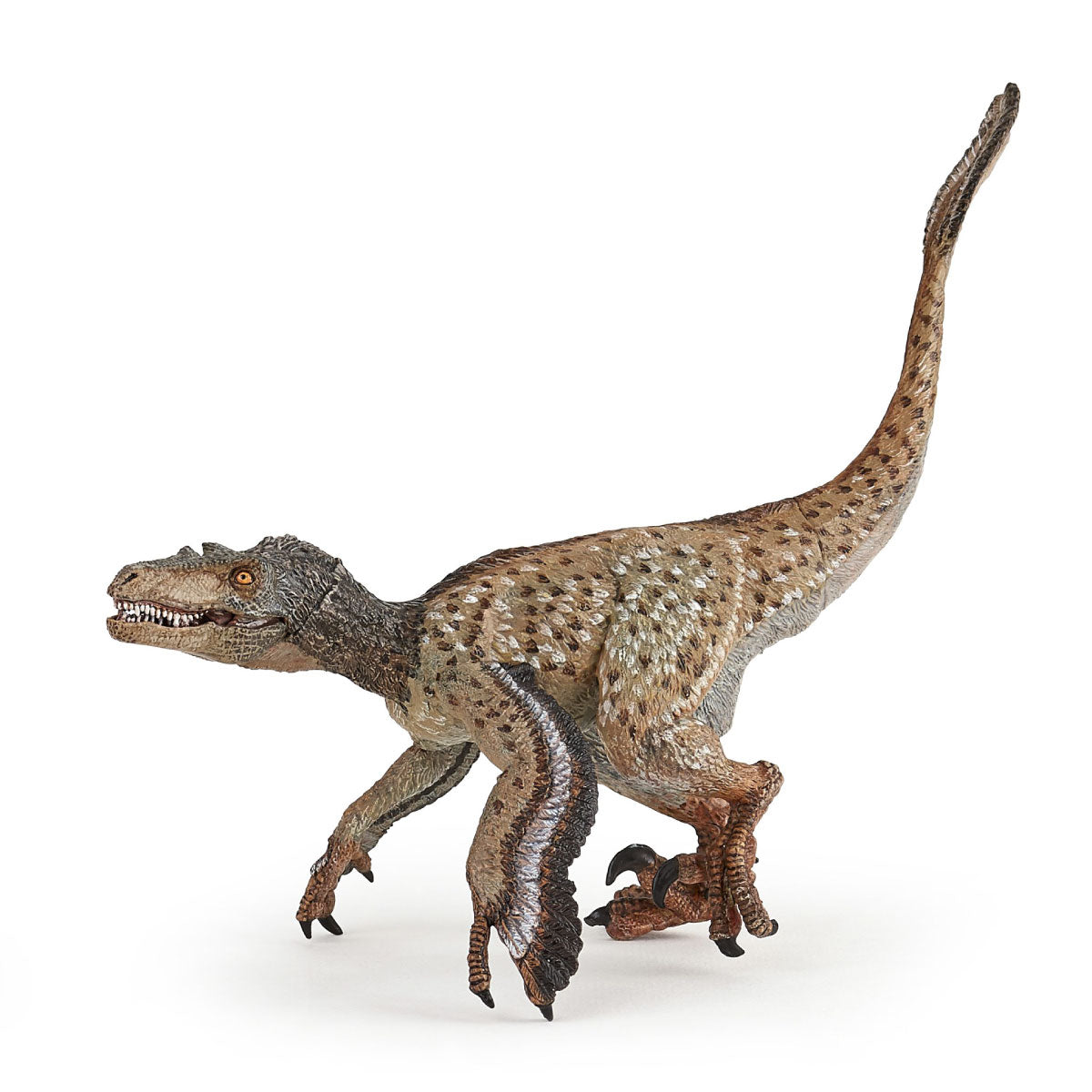 Store Pickup
Store pickup is always free.
We fulfill orders as quickly as we can. If you need something by a specific day or time, let us know at checkout and we will do our best!
Happy Up Edwardsville:
Orders are usually available for same day pickup if ordered by 2pm, Monday - Saturday.
If ordered after 2pm on Saturday, your order will be ready on Monday (or the next business day in case of holidays).
Happy Up Clayton:
Orders are usually available for next day pickup If ordered by 2pm, Tuesday - Saturday.
Orders placed before noon on Sunday will be available for pickup on Tuesday.
Some items may take additional time. We will contact you to let you know.
For Curbside Pickup:
Once we've let you know that your order is ready, give us a call when you arrive at the store. We'll bring your purchases out for you!
Shipping
We are more than happy to ship things for you!
A $24.00 minimum purchase is required for shipping.
Shipping rates are based on your cart total after any discounts or coupons.
Purchase Amounts:
$24 - $50 = $9.75 shipping
$50.01 - $75.00 = $12.25 shipping
$75.01 - $100.00 = $14.75 shipping
$100.01 - $150.00 = $19.00 shipping
$150.01 and up = $25.00 shipping
Some items are not eligible to ship. These items are labeled on their product page and in your cart as: Store Pickup Only
If you do not see shipping as an option at checkout, please check if any of your items are Store Pickup Only.
Shipping orders are processed Monday through Friday.
If you have any questions, send us an email: help@happyupinc.com
You are also welcome to give our Edwardsville, IL location a call during store hours: (618) 656-9596
Returns Policy
We aren't happy until you are!
With receipt or email confirmation:
exchange, store credit, or refund to original form of payment
With gift receipt:
Without receipt, email confirmation, or gift receipt:
Shipping charges are not refundable.

To arrange for a return of an item we shipped, please email help@happyupinc.com
Shop Happy at a local Happy Up!